Doppelherz aktiv Active Vitamin D3 2000IU
glutenfree
lactosefree
Active Vitamin D3 2000IU
Spray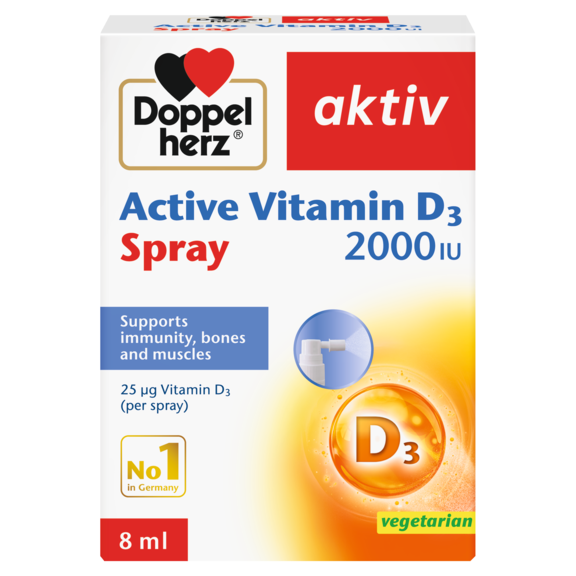 ---
Supports immunity, bones and muscles

25 µg Vitamin D3 (per Spray)

Vitamin D3 contributes to maintain healthy bones and teeth.
glutenfree
lactosefree
---
Scientific studies have shown that Vitamin D3 was a precious and polyvalent ally for health.
Vitamin D3 for instance contributes to the maintenance of healthy bones, and to the correct function of the immune system.
When endogenous Vitamin D3 synthesis is too low, which may be the case during winter, at an advanced age or when dietary intake of Vitamin D3 is limited, it is recommended to take supplemental Vitamin D3.
The Active Vitamin D3 Spray from Doppelherz delivers 1000 IU of Vitamin D3 (corresponding to 25 µg Vitamin D3) per spray, which helps meet dietary intake recommendations, especially in case of limited endogenous production.
Vitamin D3 – multitalented ally of your health
contributes to normal cell division and function of the immune system.
contributes to maintain healthy bones and teeth.
contributes to maintain normal muscle function.
stimulates dietary calcium absorption and use for bone maintenance
Composition
| Ingredients | per spray | per 2 sprays |
| --- | --- | --- |
| Vitamin D3 | 25 µg | 50 µg |
Consumption recommendation
Spray one, directly into the mouth, then swallow. After opening, use up within 6 months. 
Note
Do not exceed the stated recommended daily dosage!
Food supplements should not be used as a substitute for a varied diet.
The product should be stored out of the reach of children.
Ingredients
Medium-chain triglycerides, Cholecalciferol (Vitamin D3).
Reviews
No ratings have been submitted yet. Submit your first review here.