Doppelherz aktiv Calcium 500
lactosefree
glutenfree
Calcium 500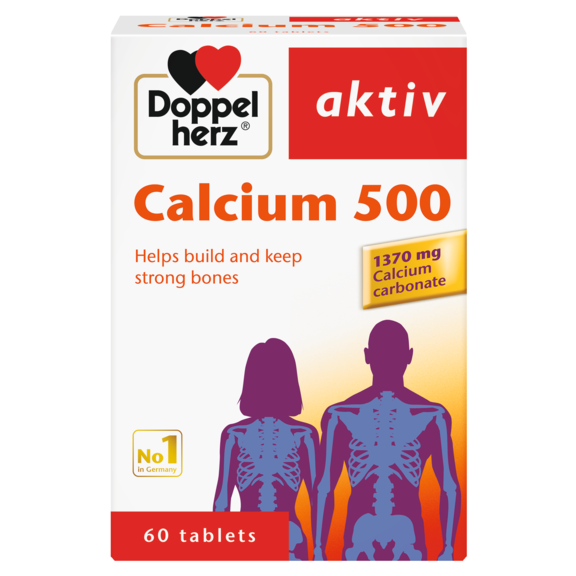 ---
Helps build and keep strong bones
1370 mg Calium carbonate
Food supplement
lactosefree
glutenfree
---
Helps build and keep strong bones
Dietary intake of optimal amounts of vitamins and minerals is essential to sustainphysical and mental wellbeing.
Calcium is a vital mineral that is best known for its central role in bones and teeth constitution. Adequate calcium intake is required to support bone growth during childhood and bone maintenance during adulthood. Adults, especially post menopausal women, might be at risk for osteoporosis due to dietary calcium deficit.
What is less known about calcium is that it is also required for the activation and maintenance of several metabolic reactions, for proper muscle function and for blood clotting.
Calcium 500 tablets from Doppelherz help optimize dietary calcium intake to remain healthy and help build and maintain strong bones and teeth.
Each tablet provides 500 mg of Calcium. One tablet daily supports bone formation in children age 12 to 18. Intake of one to two tablets daily is recommended for adults.
Composition
| Ingredients | per tablet |
| --- | --- |
| Calcium | 500 mg |
Consumption recommendation
Children age 12 to 18 take 1 tablet daily, adults take 1 to 2 tablets daily at meal with enough liquid.
Note
Do not exceed the stated recommended daily dosage! Food supplements should not be used as a substitute for a varied diet. The product should be stored out of the reach of children.
Energetic value: 1 tablet corresponds to 0.1 kcal/0.4 kJ.
Do not store above 25 °C.
Ingredients
1370 mg Calcium carbonate corresponding to 500 mg Calcium.
Reviews
No ratings have been submitted yet. Submit your first review here.