Doppelherz aktiv Castolax
glutenfree
lactosefree
Castolax
Castor oil laxative capsules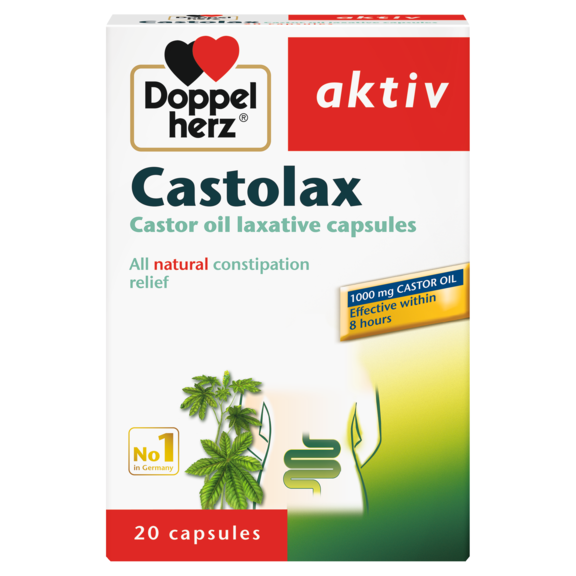 ---
Castor oil laxative capsules
All-natural constipation relief
Effective within eight hours
glutenfree
lactosefree
---
All natural constipation relief
Constipation is a frequent complaint that may be caused by lack of physical activity, imposed bed rest, stress, unbalanced diet or rapid diet changes, for instance when traveling.
Castolax capsules from Doppelherz® provide castor oil to help relieve occasional constipation.
Castor oil is produced from beans of the castor plant (Ricinus communis). The benefits of this oil have been known for ages: when used topically, castor oil moisturizes skin and hair. When ingested, it acts purgative and laxative.

The laxative action of castor oil is based on its high content of ricinoleic acid. This molecule rapidly triggers an increase in feces water content and stimulates bowel movement, resulting in a fast relief from constipation.

Because castor oil taste is unpleasant, many users prefer to ingest it as capsules.

Castolax capsules from Doppelherz® are tasteless, easy to swallow soft gel capsules containing 1000 mg pure cold-pressed castor oil each.

Use of Castolax capsules from Doppelherz® is recommended to treat occasional constipation.
Composition
| Ingredients | per capsule |
| --- | --- |
| Castor Oil | 1000 mg |
Consumption recommendation
Depending on the effect wanted, swallow 1 to 3 capsules with enough liquid in the morning on an empty stomach. Do not chew.
Take 2 capsules on the first day and increase or reduce the dosage on the following days if necessary. 
Note
Do not exceed the stated recommended daily dosage. Food supplements should not be used as a substitute for a varied diet.
Pregnant or breastfeeding women should not use this product.
Reduce the dosage or interrupt treatment in case of diarrhea or abdominal cramps.
Do not use this product in case of known allergy towards castor oil.
The product should be stored out of the reach of children.
Do not store above 25 °C.
Ingredients
Castor oil, Gelatin (bovine, halal), Glycerol
Reviews
No ratings have been submitted yet. Submit your first review here.