Doppelherz aktiv Leber plus
glutenfree
lactosefree
Leber plus
Milk thistle + Artichoke + Turmeric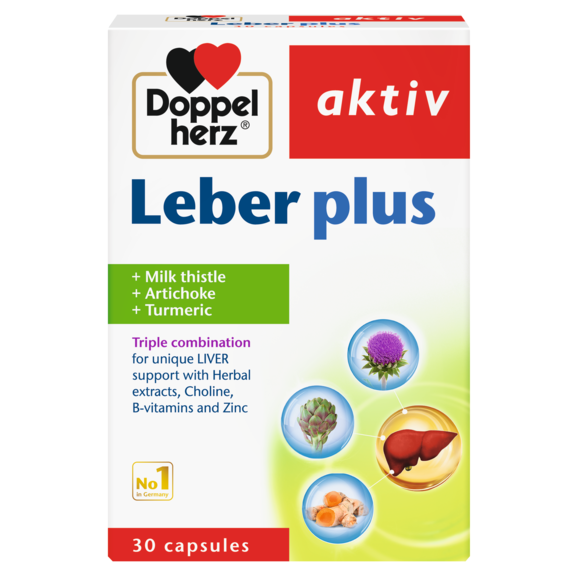 ---
Triple combination for unique LIVER support
With Herbal extracts, Choline, B-vitamins and Zinc
glutenfree
lactosefree
---
Being a central metabolic organ, the liver contributes to numerous metabolic pathways.
It plays a major role in carbohydrate, fat and protein metabolism and it helps process and eliminate substances that are harmful for the organism.
When the liver stores too much fat as a result of high dietary fat or alcohol intakes, its function in digestion and metabolism may be impaired. A balanced, low-fat diet as well as certain nutrients and herbal substances also contribute to maintain a healthy liver.
Doppelherz® aktiv Leber plus contains extracts of Artichoke, Milk thistle and Turmeric that have been traditionally used for decades to support liver health. It also contains Choline that contributes to maintain normal fat metabolism as well as Biotin, Folic acid and Vitamin B2 that are involved in energyyielding metabolism and Zinc that contributes to protect cells against oxidative stress.
Intake of Doppelherz® aktiv Leber plus on a regular basis is helpful to support liver function and health.
Composition
| Composition | per capsule |
| --- | --- |
| Artichoke extract | 50 mg |
| Milk thistle extract | 100 mg |
| Turmeric extract | 100 mg |
| Choline | 100 mg |
| Biotin | 50 μg |
| Folic acid | 75 μg |
| Vitamin B2 | 1,4 mg |
| Zinc | 2,5 mg |
Consumption recommendation
Take 1 capsule daily at meal with enough liquid. Do not chew.
Note
Do not exceed the stated recommended daily dosage! Food supplements should not be used as a substitute for a varied diet.The product should be stored out of the reach of children.
This product is not suitable for children, adolescents, pregnant and lactating women. Do not take in case of a known allergy to any of the ingredients.
Ingredients
Choline bitartrate, Hydroxypropyl methyl cellulose, Milk thistle extract, Turmeric root powder, Maltodextrin, Artichoke extract, Zinc gluconate, Magnesium salts of fatty acids, Riboflavin (Vitamin B2), Pteroylmonoglutamic acid (Folic acid), D-biotin.
Reviews
No ratings have been submitted yet. Submit your first review here.