Doppelherz aktiv Omega-3 Syrup
Lactosefree
Glutenfree
Omega-3 Syrup
Kinder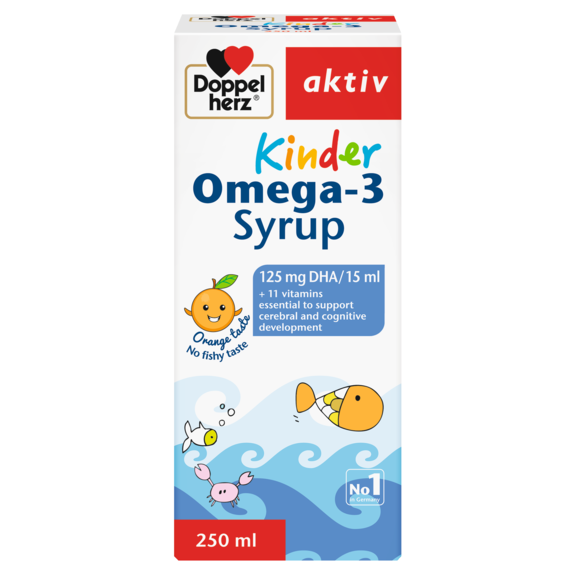 ---
125 mg DHA + 11 vitamins per 15 ml 
essential to support cerebral and cognitive development
nutrients required for proper brain function and cognition 
Lactosefree
Glutenfree
---
Educating children to eat healthy food is important.
This helps prevent adoption of bad eating habits which can be at the origin of nutrient deficiencies on the long term.
Among the nutrients required for proper brain function and cognition, Omega-3 fatty acids from fish play a determi­nant role. Unfortunately, intake of these long, polyunsaturated fatty acids is often not optimal. 
DHA (Docosahexaenoic acid) in particular accumulates in neuron membranes where it allows optimal transmission of nerve impulses. In addition the contribution of DHA to retina develop­ment and in the maintenance of vision in children has been weil established.
This positive effect can be reached with the daily intake of 250 mg of DHA, which is the amount of DHA provided by 30 ml of Doppelherz® Kinder Omega-3 Syrup. 
In addition to highly-purified Omega-3 fatty acids from fish, Doppelherz® Kinder Omega-3 Syrup also contains B-Vitamins that play a central role in the function of the brain and of the nervous system, Vitamin E and Vitamin C that both contribute to reduce oxidative stress, Vitamin D that is essential for the proper function of the immune system and Vitamin A that is important for vision.
Thanks to the encapsulation of the Omega-3 fatty acids in microscopic and neutral-tasting beads, Doppelherz® Kinder Omega-3 Syrup does not taste like fish: children will love it! 
Composition
| Ingredients | per ml |
| --- | --- |
| Vitamin A | 200 µg |
| Vitamin D3 | 2,5 µg |
| Vitamin C | 100 mg |
| Vitamin E | 6 mg |
| Vitamin B1 | 0,55 mg |
| Vitamin B2 | 0,7 mg |
| Niacin | 8 mg |
| Pantothenic acid | 3 mg |
| Vitamin B6 | 0,7 mg |
| Biotin | 25 µg |
| Vitamin B12 | 1,25 µg |
| Fish oil | 535 mg |
Consumption recommendation
Dosage:
Children 1-3 years: 7.5 ml (1/4 cup) per day
Children 4-7 years: 15 ml (1/2 cup) per day
Children above 7 years: 30 ml (1 cup) per day
Note
Shake well before use. Do not exceed the stated recommended daily dosage! Food supplements should not be used as a substitute for a varied diet. The product should be stored out of the reach of children. Do not store above 25 °C. After opening store in the refrigerator and consume within 1 month.
Ingredients
Water, Sucrose, Fish oil powder, Orange powder, Sodium-L-ascorbate (Vitamin C), Lactic acid, Flavouring, Xanthan gum, Calcium lactate, Potassium sorbate, DL-alpha-tocopheryl acetate (Vitamin E), Nicotinamid (Niacin), Sodium benzoate, Calcium-D-pantothenate, D-biotin, Pyridoxine hydrochloride (Vitamin B6), Thiamin hydrochloride (Vitamin B1), Riboflavin (Vitamin B2), Retinyl palmitate (Vitamin A), Carotenes, Cholecalciferol (Vitamin D3), Cyanocobalamin (Vitamin B12).
Safaa
reviewed 29.12.2022
Pls, can you tell me when the child takes the syrup omega-3? Before or after food
Answer from Doppelherz
We recommend taking the syrup after a meal. This promotes the absorption of valuable omega-3 fatty acids. It is crucial that the omega-3 supplement is not taken on an empty stomach.