Doppelherz system CONCEPTIVE MEN
CONCEPTIVE MEN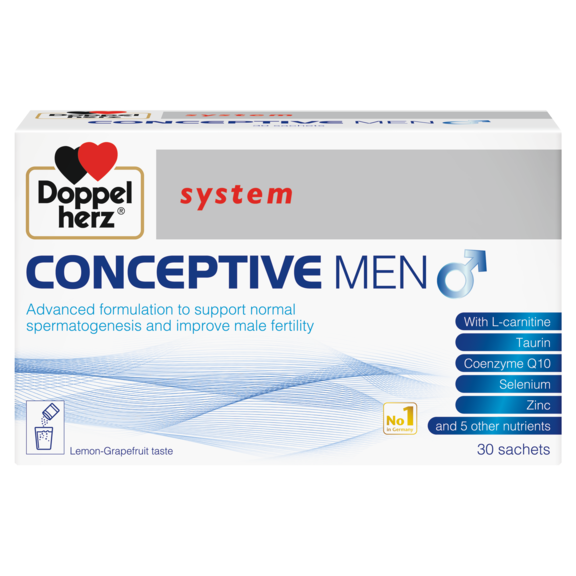 ---
Advanced formulation
Supporting normal spermatogenesis and improve male fertility
Food supplement
---
One couple in the reproductive age out of seven encounters fertility problems of unknown reason.
In about one third of the cases, the man is at the origin of the problem. Male subfertility may affect even fully healthy and sexually active men.
It is mostly due to defects in spermatogenesis – the production of sperm cells in the testicles, which may remain undetected unless specific tests assessing sperm quality are performed. Sperm quality is defined by three main criterion: cell count (the number of cells per ml sperm), cell morphology and cell motility (their ability to "swim" towards the oocyte).
Recent advances in reproductive biology show that subfertility in men may be improved by adopting a healthier way of life, in particular by changing dietary habits and by supplying specific nutrients. These nutrients play an important role in spermatogenesis, in the activation of the sperm cells and in their protection against free radicals on their way to the oocyte.
In our product Doppelherz Conceptive Men, we gathered essential nutrients that were shown to improve the quantity and the quality of sperm cells and the composition of the seminal fluid:
L-carnitine is a molecule that plays an essential role in the production of energy in mitochondria, the "power plants" of sperm cells. L-carnitine is therefore important for normal sperm cell motility.
Coenzyme Q10 is also required for proper function of the mitochondria, where it exerts a double function as antioxidant and as a component of the respiratory chain that uses sugars to produce cellular energy.
Taurine exerts positive effects on spermatogenesis and confers to sperm some degree of protection against oxidative stress.
Folic acid, Vitamin B12, Vitamin D3 and Zinc are needed to sustain cell division activity in order to continuously produce new sperm cells.
Primary antioxidants like Vitamin C and Vitamin E have essential function in protecting cells from oxidative stress, which is one of the main factor affecting sperm quality.
Zinc and Selenium are trace elements that contribute to normal fertility. Selenium is important to maintain structural integrity of the sperm cells.
Since spermatogenesis is a continuous process that generates sperm cells within 74 days, intake of during at least 3 months is necessary to obtain measurable improvements in sperm parameters. We recommend the use of Conceptive Men as long as required, until pregnancy.
Composition
| Ingredients | per sachet |
| --- | --- |
| L-carnitine | 2000 mg |
| Vitamin C | 220 mg |
| Taurine | 200 mg |
| Vitamin E | 36 mg |
| Coenzyme Q10 | 30 mg |
| Zinc | 15 mg |
| Folic acid | 400 µg |
| Selenium | 80 µg |
| Vitamin B12 | 30 µg |
| Vitamin D3 | 20 µg |
Consumption recommendation
Dissolve the content of 1 sachet per day in a glass of water (150 ml). Drink before or during a meal.
Note
Do not exceed the stated recommended daily dosage! Food supplements should not ne used as a substitute for a varied diet. The product should be kept out of the reach of children.
Energetic value:
1 sachet corresponds to 27 kcal / 115 KJ.
May contain traces of soja, gluten, egg, milk and lupins.
Ingredients
2000 mg L-carnitine, 220 mg Vitamin C, 200 mg Taurine, 36 mg a-TE Vitamin E, 30 mg Coenzyme Q10, 15 mg Zinc, 400 μg Folic acid, 80 μg Selenium, 30 μg Vitamin B12, 20 μg Vitamin D3.
Reviews
No ratings have been submitted yet. Submit your first review here.