Doppelherz system Relax and Sleep
glutenfree
lactosefree
Relax and Sleep
with Melatonin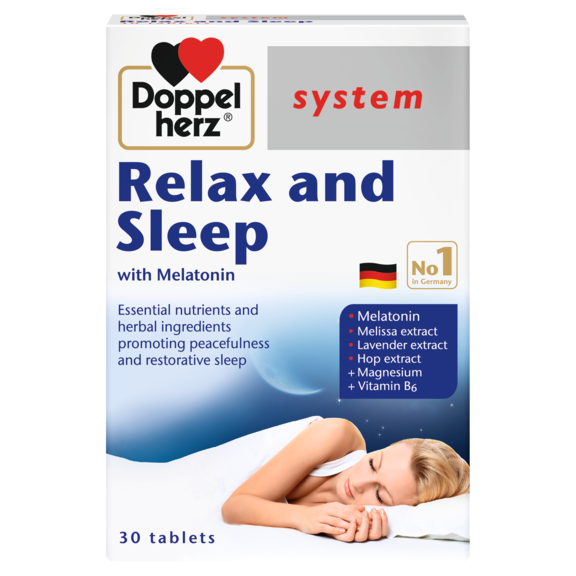 ---
with 1 mg Melatonin
Essential nutrients and herbal ingredients promoting peacefulness and restorative sleep
Hop, Melissa and Lavender have acalming effect which helps restore a restful sleep
glutenfree
lactosefree
---
Sleep quality has a great influence on well-being, on physical and on mental performances during daytime.
It is well-known that a varied diet providing vitamins, minerals and trace elements in the right amounts largely contributes to a balanced mental and emotional health as well as to restorative sleep.
Melatonin is often referred to as the sleep hormone, due to its role in the regulation of our biological clock, in particular in the smooth transition between the waking and the sleeping phases. Intake of Melatonin shortly before sleep has been shown to decrease sleep onset latency, which is beneficial for people having troubles falling asleep. Melatonin also eases subjective feelings of jet lag.
Doppelherz Relax and Sleep tablets were formulated using herbal extracts that are being used traditionally to facilitate sleep: Hop, Melissa and Lavender are known in folk medicine for their calming effect which helps restore a restful sleep. These three herbs have been used traditionally to promote sleep in a safe way thanks to their natural, non-addictive calming and anxiolytic properties.
Vitamin B6 and Magnesium were also added to the formula of the Relax and Sleep tablets because they support correct function of the nervous system, and they contribute to the reduction of weariness and fatigue.
Find a restful sleep thanks to the combination of Melatonin, Herbal extracts, Magnesium and Vitamin B6.
Take one tablet Doppelherz system Relax and Sleep daily in periods of stress or whenever falling asleep has become more difficult, in order to find inner peace, reduce sleep latency and promote restorative sleep.
Composition
| Ingredients | per tablet |
| --- | --- |
| Melatonin | 1 mg |
| Hop cones extract | 200 mg |
| Melissa leaf extract | 100 mg |
| Lavender flowers extract | 30 mg |
| Magnesium oxide | 100 mg |
| Vitamin B6 | 0,4 mg |
Consumption recommendation
Take one tablet daily in the evening with enough liquid. Do not chew.
Note
Do not exceed the stated recommended daily dosage! Food supplements should not be used as a substitute for a varied diet. The product should be stored out of the reach of children. This product is not suitable for children, pregnant or breastfeeding women, or patients with liver disease, kidney disease or autoimmune disease. People under medical treatment should consult their doctor before taking this product.
Ingredients
Microcrystalline cellulose, Hop cones extract, Magnesium oxide, Melissa leaves extract, Lavender flowers extract, Hydroxypropyl cellulose, Silicon dioxide, Powdered cellulose, Hydroxypropyl methyl cellulose, Cross-linked sodium carboxy methyl cellulose, Magnesium salts of fatty acids, Magnesium hydroxide carbonate, Water, Calcium carbonate, Talc, Polyethylene glycol, Iron oxides and hydroxides, Melatonin, Pyridoxine hydrochloride (Vitamin B6).
Zakir
reviewed 20.09.2023