glutenfree
lactosefree
RIBOSAN
Cough Syrup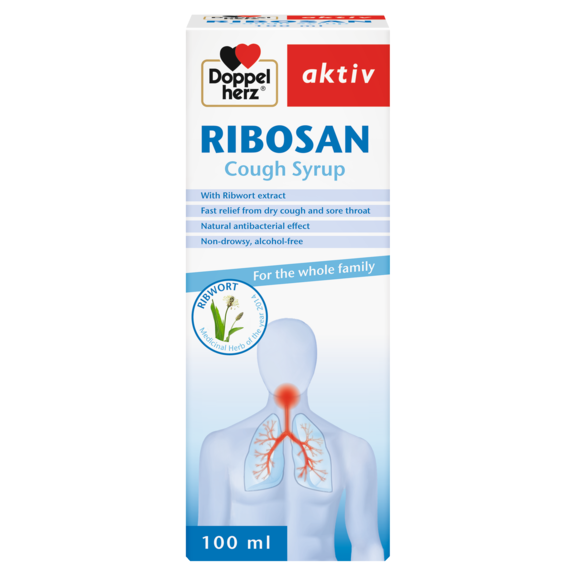 ---
Fast relief from dry cough and sore throat
Natural antibacterial effect
Non-drowsy, alcohol-free
glutenfree
lactosefree
---
With Ribwort extract to soothe dry cough and sore throat
Doppelherz® aktiv Ribosan Cough Syrup provides rapid relief from dry cough and helps to recover a healthy oropharyngeal mucosa.
The natural healing power of Ribwort (Plantago lanceolata) has been used by generations to treat upper respiratory diseases and colds. In particular Ribwort has proven useful in the symptomatic treatment of oral or pharyngeal irritations associated with dry cough. Because of its outstanding therapeutic qualities and its lack of side effects, Ribwort was awarded the title of "Medicinal Herb of the year 2014" by the University of Würzburg.
Doppelherz® aktiv Ribosan Cough Syrup contains a soft Ribwort extract that delivers natural antibiotic and active soothing substances. These form a film on mucous membranes of the mouth and the throat and help calm irritations, fight against inflammations and ease coughs.
Consumption recommendation
Children 1–4 years: 3 times 5 ml
Children 4–12 years: 3 times 10 ml
Children above 12 years and adults: 4 times 10 ml
Note
Do not exceed the stated recommended daily dosage.
This product should not be taken in case of known allergy against Plantago.
Do not give to children under the age of 1 year. The product should be stored out of the reach of children.
Ingredients
Sucrose syrup, Glucose syrup, Ribwort herb soft extract, Water, Potassium sorbate, Peppermint oil
جربته اكثر من مره ١٠٠/١٠٠
ايهاب
reviewed 05.02.2023